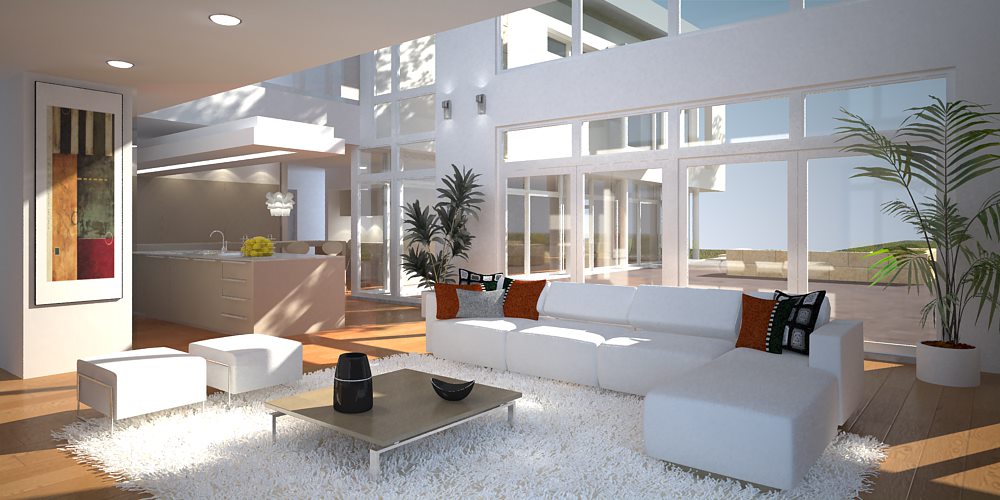 Smart home automation reigns supreme in luxury builds, and with today's technology, you aren't limited to wall-mounted, in-home devices anymore. Rather, you're able to set up your entire home's electronic systems to be controlled and automated with the simple touch of a button on your smartphone, tablet, or wireless touch screen.
Smart Home Automation Simplifies and Enhances Your Life
When your home features are integrated with automated services, your daily life revolves around spending more time enjoying what's important rather than dealing with mundane tasks. Smart home automation from MediaTech Living offers features that are designed to enhance your comfort, assist in entertaining, allow convenience and provide peace of mind.
Every one of our designs are custom built to fluidly integrate with your lifestyle and environment. Have a habit of forgetting to lock your front door at night? Our systems will set your home up to lock itself at your desired time. Love to entertain? When your guests are about to arrive, simply press a button and switch your system to an 'entertaining' mode that places your lights, music, shading and climate all at perfect levels for your event.
Streamline Your Automation When You're Home and Away
Smart home automation is virtually limitless. If you desire it, there's more than likely a way to achieve it with the system we design and build for you and your home.
Set your shades up to automatically close when direct sunlight hits them. Enjoy your home waking you up in the morning by opening the drapes in your bedroom. We can even set it up to turn on your coffee maker and the morning news.
With home automation in place, you can put your home in a pre-planned 'away' mode where the security system activates, and certain lights turn off and others turn on. TVs and music that are unnecessary while you're out of the house turn off as well so that your home can run more efficiently when you aren't there. Even the climate will set itself to a lower level to save on energy. Whether you're stepping out for the afternoon or heading out of town for a trip, smart home automation from MediaTech Living provides efficiency and protection for peace of mind.
Home Automation for Every Custom Builder's Budget
We pride ourselves in offering customizable solutions to fit your budget. By utilizing the systems and features from two of the industry's leading providers, we're able to establish what you want and what you need within the financial window you're looking for.
Control4 Automation Systems
Control4 allows you to achieve the systems you're looking for in the initial stages of your home build or remodel when you're working with a tighter budget. It's also a great way to experience and integrate more customized applications down the road.
A Control4 system is perfect for control and automation of audio/video systems, lighting, security, heating and air conditioning, motorized drapes and shades, as well as door and gate access.
As a company with years of experience, MediaTech is trained and certified at the factory's highest level, and as such, we are a Control4 Platinum dealer.
Learn more about what Control4 automation systems can do for your home.
Savant Automation Systems
If you're looking to control your smart home systems with your Apple products (iPad, iPhone, Mac, or iPod Touch), Savant is the answer. As an Apple-based home automation and control system, Savant was built on their platform and is Apple to the core.
Savant systems allow you to control everything from your Apple device. Turn your lights off and on, adjust your thermostat, open or close any of your devices integrated into your home electronic system, and do it all from just about anywhere in the world.
The Savant iPad intercom and Savant IP home phone system offer a complete solution for room-to-room and telephone communications.
Find out more about what Savant smart home automation products can do for you.
At MediaTech Living, we work with the best product providers in the industry to offer you the highest quality experience imaginable. All of our automation services come with 24/7 emergency service, extended maintenance agreements, and a one-year warranty. Contact us for a free consultation.