Smart Home Automation in Highland Park, IL
Home Lighting and Climate Control Systems that Integrate with Your Lifestyle and Environment
MediaTech provides fully integrated intelligent home automation systems to Highland Park, IL and surrounding areas. With our smart home lighting and climate control systems, you can enjoy simple living at its best with comfort and lower energy costs.
A Lighting System That Fits Your Lifestyle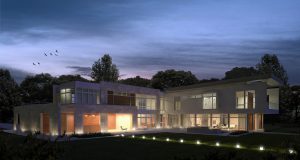 Add smart home lighting systems to your Highland Park home for added security and ambiance. With the variety of control options available, the possibilities are endless. Automate your lighting control system to turn of when you leave a room, to light up the pathway to your doorstep, or to set the mood for hosting guests. You can also deter intruders with a system that randomly turns on and off lights to make it seem like you are home.
In addition to its utility and beauty, a home lighting control system from MediaTech can help save you upwards of 10-20% on your energy use. This makes smart home automation a great option for savvy homeowners who want to lower energy costs and reduce their carbon footprint.
Optimal Comfort and Efficiency With Climate Control Systems
Also ideal for an eco-friendly feature to add is our climate control systems which allow you to integrate your home's heating, air conditioning, and ventilation system into an automated system. You can control the temperature of different zones in your home or set it to automatically adjust according to your standards.
A MediaTech climate control system for your home can be controlled from anywhere in the world. So whether you are relaxing at home, or visiting another country, you can feel at ease knowing that your home is maintaining the proper temperature to keep it running efficiently for your needs.
Providing Integrated Home Automation Systems to Highland Park and Surrounding Communities
To learn more about our home lighting control systems, climate control systems, or additional services we offer to the Highland Park area, give us a call or use the form to contact us.
MediaTech specializes in smart home automation technologies and can integrate hundreds of media, lighting, communications, and environmental processes and systems into one harmonious structure that can be easily controlled by you with the touch of a button.
Whether you're interested in starting with one system at a time or are looking for a fully-integrated intelligent automation system for your home, we can be of service.
Smart Home Automation
Learn more about automation services like home lighting and climate control systems from MediaTech, backed by our one‐year warranty, extended maintenance agreements and 24/7 emergency service. Contact us for a free consultation.
Contact Us