AMX Automation Systems
Fully Customized Automation and Control

Control anything in the way that makes the most sense for you. AMX is our most powerful line of home automation and home control products. We can set up your AMX system to fit you like a glove, with control screens and preset sequences of events programmed exactly to your needs and to your liking.
Want something out of the ordinary? It's no problem with AMX. For example, we can design an AMX system that alerts you when a visitor comes up your driveway – even if you're in your back yard or not at home. Or perhaps you'd like a multi‐window sports viewing package, where you can send a particular game to your big screen just by touching its image on your control panel.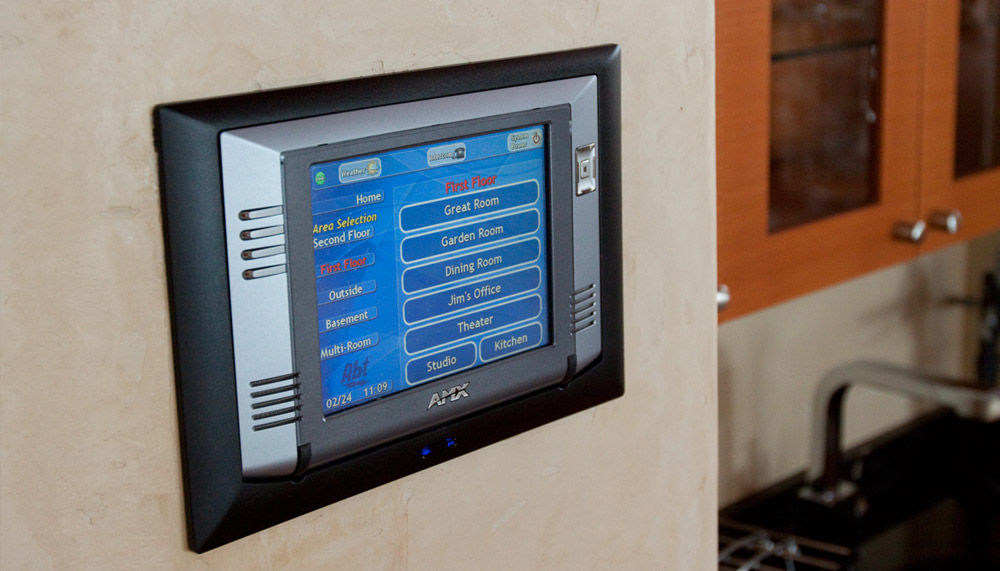 Let the System Do the Heavy Lifting
Even though AMX systems are amazingly flexible, they are not hard to use. Quite the contrary. The purpose of AMX automation is to let the system do the heavy lifting while you relax. Want your lights, air conditioning, music and draperies set just the way you like them when guests arrive tonight? We can set up an "evening party" button so you're ready to go.
AMX Home Automation Systems Are:
Extremely flexible
Set up on a custom basis to exactly fit your needs
Extremely easy to use. You can control everything from a wide variety of touch screens, remote controls, or your Apple or Android phones or tablets
Modular – you can start small and add to your system as time and budget allow
Ideal for new construction and for older homes
Built to work with almost any home electronics, including all major brands of audio, video, lighting, climate and security systems
Cost effective to install and maintain
AMX Automation Systems
Learn more about AMX automation systems from Media Tech, backed by our one‐year warranty, extended maintenance agreements and 24/7 emergency service. Contact us for a free consultation.
Contact Us