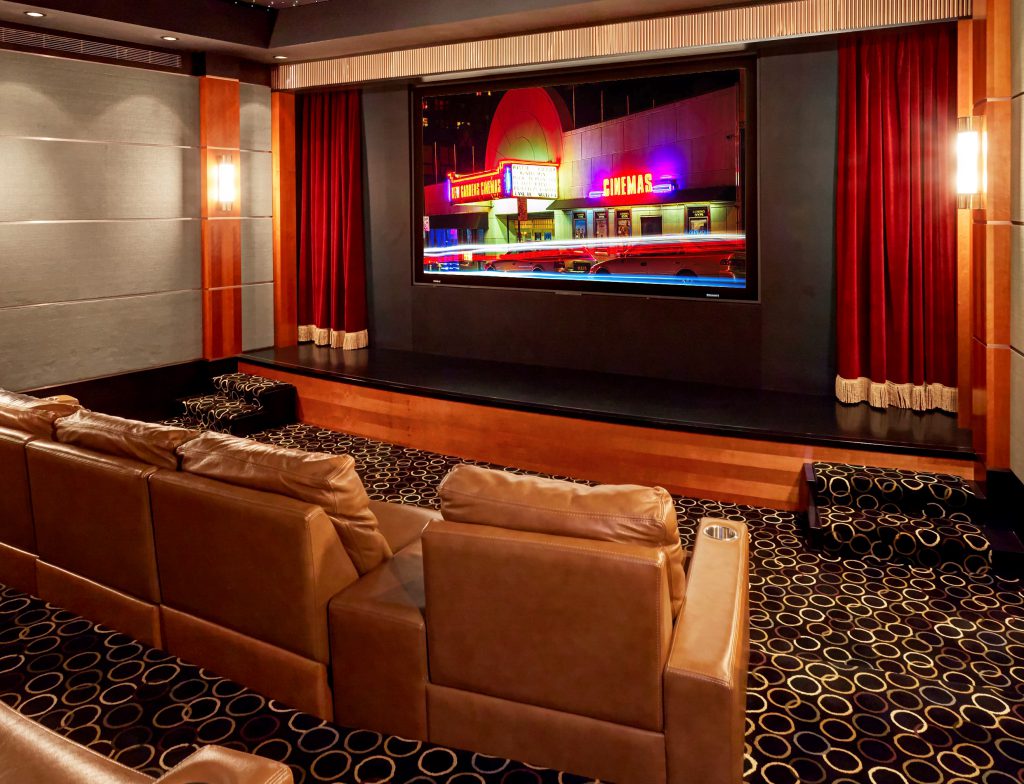 Whether you desire to have a movie theater experience at home or a great place to gather with friends and family to watch the game, a dedicated TV or Media Room takes some serious planning to get it right. No matter which route you go, there are things you'll need to consider.
For Those Looking for a True Movie-Goer Experience in Their TV or Media Room
If you're looking to immerse yourself in a truly movie theater-esque environment at home, you should definitely consider utilizing a large projection screen as well as tiered seating. This gives each viewer the best combined audio and video experience possible and focuses attention directly on the screen.
While these features can certainly bring the movie theater home to you, there are still several other things to consider to make your experience top-notch.
The Shape of Your TV or Media Room Matters
Dedicated TV and Media Rooms are typically purpose-built rectangles. This allows for tight control of the acoustics in order to create a fully immersive environment.
The Lighting of Your TV or Media Room Matters
It's important that your TV or Media Room is darker than the other rooms of your home. This allows for very controllable lighting levels. However, make sure your lighting is adjustable. When it's time to watch the big game or enjoy regular entertainment viewing, having the ability to ramp up your lighting will get you more enjoyment out of your space.
Consider Your Surroundings and the Noise They Make
When creating a dedicated TV or Media Room, it's necessary to keep in mind any distracting and noisy equipment. Special consideration should be made to suppress the noise. Oftentimes the distracting sound sources derive from things like refrigerators, popcorn machines, etc. Either place these items in separate areas or take extra effort to quiet them.
If You're Looking for a Multimedia Sports or Gaming Space, a Larger LED TV May Be Your Best Bet
For those looking for a great space to hang out, watch sports, and enjoy gaming, featuring LED TVs in your space allows you to see every move with crystal-clear precision.
A large TV flanked by two smaller displays can make a sports day extra special by allowing your group of friends to keep track of more than one game at a time. By installing special electronics, you can enjoy the ease of moving media from side screens to the big screen as well.
Focus Your Sports or Gaming Room Layout on the Group
Spaces designed for sports and gaming can be brightly lit with less focused seating than an in-home theater room. This allows for more group interaction rather than dedicated attention to the media.
These Spaces Allow for More Freedom in Design
Because sound is less important in a sports or gaming multimedia room, you are able to incorporate the space as part of a larger entertainment area in your home.
Media Rooms with Multiple Screens = More Family Time
Media rooms with more than one screen allow families to get more "together" time as your kids can be gaming on one screen while you can be catching up the DVR's weekly shows.
Enjoy Movie Night Even without a Dedicated Home Theater Room
While TV and Media Rooms can be designed to bring the movie theater experience to you on a whole other level, a more open, sports and gaming focused multimedia space can still give you a great way to partake in more intimate gatherings.
By utilizing lighting control features, you and your family can enjoy things like movie night by focusing on the center screen, knowing you're getting a good quality surround experience.
MediaTech Has All Your TV and Media Room Solutions
If you're considering a dedicated TV or Media Room for your home, call the experts.
Our owners and management team at MediaTech average over 25 years experience providing automation, entertainment and integration solutions in luxury homes. We take a collaborative approach to each project; working with you, your Architect, Interior Designer, Builder and Trade Partners to ensure that your system integrates seamlessly with your environment.