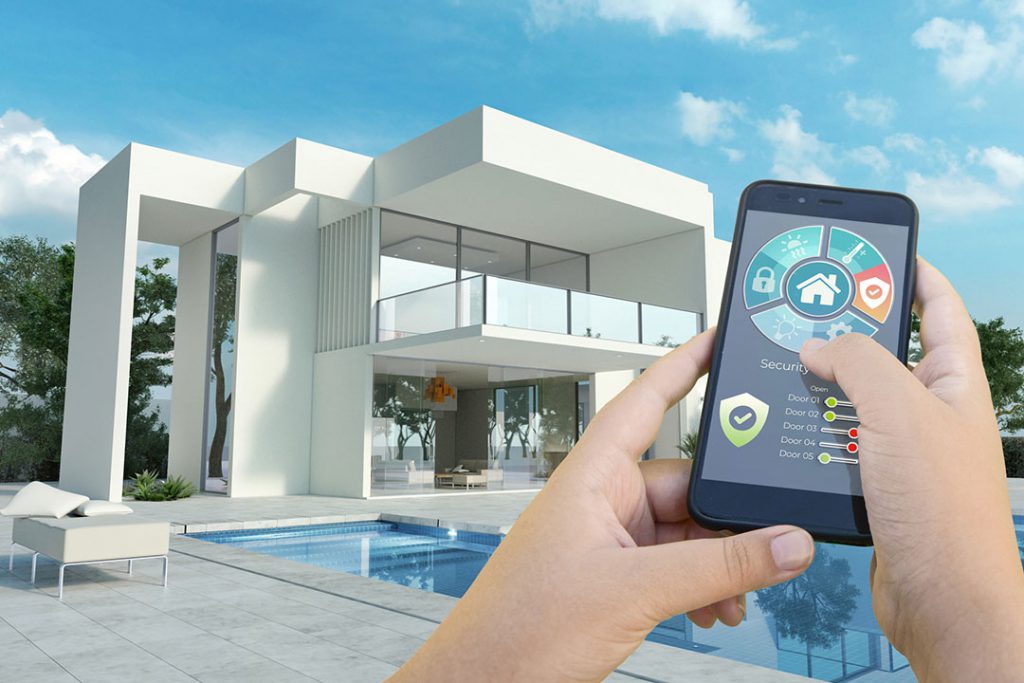 Are you looking to upgrade your home with the latest smart home technology? Nowadays, it seems there is an ever-expanding variety of options available for luxury homes – and for families wanting a taste of luxury regardless of where they live. Whether you are looking for better security, state-of-the-art lighting, customized climate controls, or something entirely different, there is something for everyone. 
Once you begin exploring the more popular, high-quality technologies available, you will see the sky's the limit when it comes to new and trendy technologies designed for interior spaces. Here are five popular areas sure to activate the imagination:
1. Security Systems for Enhanced Protection
Security is a top priority for luxury homes, and there are many different types of security systems available. Home surveillance systems offer a range of features such as motion sensors, night vision cameras, and audio alerts. Home automation can also be used to control lights, locks, and other home features from a smartphone. Smart locks are becoming increasingly popular and allow homeowners to remotely control the locks on their doors. 
Another option is a smart alarm system, which can detect intruders and alert the homeowner. They can also be used to monitor temperature, humidity, and other environmental factors. Finally, smart doorbells are becoming increasingly popular, as they allow homeowners to see who is at the door without having to open it.
2. Superior Lighting Systems for Luxury Homes
Lighting is another essential element of any smart home, and increasingly advanced lighting systems are available to meet any homeowner's needs. Smart lighting systems can be used to control the intensity and color of the lights as well as set up timers and other features. Meanwhile, smarter bulbs are allowing homeowners to customize the brightness and color of their lights while creating more energy-efficient lighting options. 
Smart switches are also highly popular, letting you control multiple lights with one switch. Don't forget to add smart dimmers to control the intensity of the lighting and create the perfect ambiance.
3. Smarter Climate Control Systems 
Climate control systems are a must-have for folks seeking added comfort at home. They let you control the temperature, humidity, and other environmental factors from the device of your choice. While smart thermostats are used to set up heating and cooling schedules, they are also helping families monitor their energy consumption. Three more elements to add:
Smart air conditioners and air purifiers that allow homeowners to control the air quality 
Smart fans and window shades that help control the flow of air and create a more comfortable atmosphere
Smart humidifiers and dehumidifiers to create the perfect humidity level for your indoor needs
4. Intelligent Appliances that Make Life Easier
Want to start small? Look no further than the endless array of smart appliances that can be added to your home automation system. While your refrigerator monitors food expiration dates or orders your groceries, your oven can automatically set up cooking schedules to create the perfect meal. From washing machines to dishwashers, technology is enabling common appliances to function more quickly and efficiently than ever. 
5. Adding Streaming Services, Gaming to Home Entertainment Systems
What good is a luxury home if you can't share the enjoyment? Home entertainment systems are an essential element of any upscale residence, and there are many smart home entertainment systems available. There are more ways than ever to access services and content using today's streaming devices. To name a few advancements in home entertainment:
TVs that access streaming services and other content 
Speakers that can also be used to control other smart home devices 
Projectors to create a cinematic experience – and access streaming services
Soundbars to create a surround sound experience and play music and other audio content 
Gaming systems for playing video games, watching movies, and accessing streaming services 
Discuss Your Smart Home Needs with a Professional Service Provider 
When selecting a smart home technology, it is important to consider the features and capabilities of the device. Any new device must be compatible with the home's existing control system, and special features may vary. Start by speaking with a professional home automation service provider about the best solutions for your home. When selecting a smart home technology, they will help you consider the most appropriate features and capabilities of any devices or features. After all, the right smart home technology should make any home feel more luxurious. 
Are you ready to upgrade your home with the best smart home quality technologies? At MediaTech, our specialists can answer all of your questions and help you determine the best solutions for your space. Call us at 630.444.0011 to get started!